Mementos: A Unique Collection of Short Stories and Flash Fiction
This newly-released book by Theodore Jerome Cohen reveals the talents of a profound author who is able to write in many voices to represent different people across countries, races, religions, and decades. Taking viewpoints of individuals to represent a place in the world and a time in history, he weaves believable stories to help build understanding across cultures. This book was difficult to put down even though it is comprised of short stories and flash fiction. The book is now on Amazon.
Writing groups could mentor themselves to this book as they practice writing from different viewpoints and persons. It would serve as a guidebook to be discussed by people who may want to apprentice themselves to the challenge of writing in different voices.
Each story is based on a single photograph, and are based on a wide variety of situations such as military life during and after wars. Some of the stories are several pages, and some are award-winning flash fiction pieces of 250 words. The awards are such as "Flash Fiction Star" or "Editor's Choice" and are listed in the text. The author suggests reading the endnotes of stories that seem obtuse, but I say read all the endnotes for further information, entertainment, and thoughtful inspiration.
Stories vary from judgment day, to "Trampled" about a suffragette who ran in front of a King's horse, a secretary hired only for beauty, suicide, death during war, and talking animals. The author writes convincingly about a Southern Baptist Preacher, a high school reunion, a math savant, a Catholic Priest, and a family home invaded black soot with coal-burning, fire-breathing steam engines, and coal smoke. I learned some new things like a catafalque is used to represent a casket in the absence of a body. I learned about a megasavant person, which was a new vocabulary word for me. I like learning while I read.
I would like to end this review with an end note, but they are best understood by reading the stories and notes themselves.
Highly recommended!
Previously, I have written posts about both children's books and adult books written by this author, Theodore Jerome Cohen.
If you are in a writing group, you might like the other flash fiction posts. One post includes an interview with Dr. Cohen.
Thank you for reading, Carolyn
This link is to a free flash fictioin writing resources for secondary teachers.
It has the video interview with Dr. Cohen, as well.
Creative Ink, Flashy Fiction – Books 1-6
You may like the books by Theodore Jerome Cohen, available on Amazon. I am not an affiliate. They are rated PG 13, I think, and would be appropriate for high school classes. Reading them caused me to write this post, so I want to mention them.
The seventh flash fiction has an animal theme and will be an eBook only.



Creative Ink, Flashy Fiction, Book #3 won Best Book in the category:
Anthology
Winter, 2018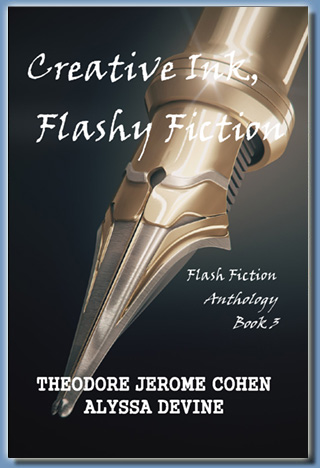 You might also like the post with the interview with Dr. Theodore Jerome Cohen where he explains how to teach flash fiction writing.
*Note: I am not an Amazon affiliate.